18 Jul

THE ROLE OF THE MIND IN HORMONE HEALTH

Dr. Welch had a conversation with Angelica Rose of SoulfullVeda.com on 14 June, 2021 for their podcast. It was lovely and went like this: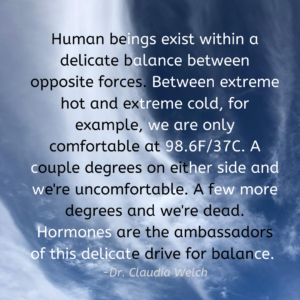 0:00 – Celestial Update and journaling prompts for the New Moon on July 9th
6:59 – Angelica defines and breaks down Sanskrit words used in the episode
11:45 – How Dr. Welch's teacher and guru found her at 8 years old
16:41 – Dr. Welch's phase of rebellion
26:19 – The impact the mind has on hormone health
38:47- The difference between intuition and the intellect
47:47 – The secrets and channels of the Mind
You can click here for that podcast.
Our online course, Women's Health & Hormones: Hormonal Balance & Stagnation is an in-depth exploration of women's hormones and the mind, designed for anyone from Western medical doctors to practitioners and physicians of Eastern medicine to people with no formal medical background (we all have a medical background, what with having bodies and minds).