Ayurveda
Satya Ayurveda-certified Ayurveda Centers:
Other Ayurveda Sites:
Ayurveda Conference: Periodic International Ayurvedic Conference in India
Ayurvedic Institute: Dr. Vasant Lad's presence and expertise makes this a special institute for learning ayurveda
Ayurvedic Practitioners Association: Representing Ayurvedic practitioners throughout the United Kingdom
Ayurvedic herbal products from Dr. Vikram Chauhan, MD Saneepa: Experienced Ayurveda care in London
The Ayurvedic Center of Vermont: Certified by Satya Ayurveda,
Banyan Botanicals: A great source for Ayurvedic products and information
Big Shakti: Presents insightful, deep exploration into various allied Eastern sciences, like Tantra and Ayurveda.
Enjoy Living Contentedly: Practical Ayurveda resources in the UK
Ivy Ingram: Ayurveda consultations & Education
Kripalu School of Ayurveda: Ayurvedic training programs on the East Coast
National Āyurvedic Medical Association (NAMA) an organization that strives to create and maintain standards of practice for Ayurvedic professionals in the US.
Neterapublishing: Indian Alchemy, Rasa Shastra
Pukka Herbs: Ayurvedic herbs in the UK, with a reputation for quality and commitment to sustainable growing practices.
Robert Svoboda, BAMS: Dr. Claudia's mentor and friend; the first westerner to earn a BAMS ayurvedic degree from India.
Sacred Window: Postpartum AyurDoula Care. Beautiful care for new mothers, using Ayurvedic principles.
Satya Ayurveda: An organization dedicated to supporting spas to offer—and customers to recognize–safe, authentic Ayurvedic offerings. They work to both train and certify spas, clinics and individual practitioners. Dr. Welch is on the advisory board.
Scott Blossom, L.Ac.: An inspired practitioner and instructor of Yoga, Ayurveda and Traditional Chinese Medicine.
Sharon Jackson: BSc & PG Dip in Ayurveda. Ayurvedic practitioner in the UK offering consultations, treatments and Panchakarma retreats. Not Satya Ayurveda certified, but known to Dr. Welch for many years.
Sonia Masocco: Ayurveda and phytotherapy consultations
Stree Ayurveda: A foundation committed to empowering women, especially local women, in Rishikesh, India. A good place to support and to volunteer. Which can be empowering to the volunteers as well. They offer classes in Ayurveda, cooking, yoga and sell wonderful, handmade yoga mats, cups made from coconuts, re-useable bags, etc. Contact them for their catalogue.
Vaidyagrama: A traditional healing Ayurvedic eco-village in South India. Good for furthering study in Ayurveda, no matter what your level of training, or for traditional Ayurvedic treatments, pañcakarma, or to volunteer.
Vasanta Lidanova: L.Ac. Acupuncture, Ayurvedic consultations and individualized yoga therapy. Ayurveda & Acupuncture Wellness, Santa Fe, NM
Resources for Conception, Pregnancy, Birth & Postpartum Education & Support
Our Women's Health & Hormones Parts I & II online courses are unable to cover these issues within their scope, but they do set the stage for a foundation for a healthy conception, pregnancy, birth and postpartum experience. Here are some other resources to help navigate those stages of life:
Balance Your Hormones, Balance Your Life: Achieving Optimal Health and Wellness through Ayurveda, Chinese Medicine, and Western Science, By Dr. Claudia Welch. Esp. Chapters 11 & 12:  "Birth Control" and, "Fertility and Conception: The Four Crucial Elements"
Incredible resources for managing your fertility naturally, including conception and contraception. This site and work represents a lifetime of work of two dedicated women. I know two women– Francesca Naish and Jane Bennett–that have dedicated their lives to education in these matters and am so delighted that now their life work is organized so well that it can be readily available to anyone. By simply following the directions in their conception and contraception kits, we can learn so much about our bodies, that can liberate us for the fertile decades of our lives, from practices that have damaging side effects. Their fertility website and work deliver comprehensive information on natural and effective conception and contraception; it is dedicated to supporting reproductive health care for every stage of a woman's life. I have followed their work for decades and this is a monumental effort, achievement and resource. (We receive a small commission on sales for this that originate from our site but this is a very rare occurrence for us and only because we have been affiliated for so long and the work is so directly related to ours). 
Taking Charge of Your Fertility: The Definitive Guide to Natural Birth Control, Pregnancy Achievement, and Reproductive Health is a fantastic educational book by Toni Weschler, MPH. Quill, an imprint of Harper Collins, 2006.
for Celebration Day for Girls, Celebration Day Girls Facilitator Training and Fathers Celebrating Daughters
for the Chalice Foundation – positive menstrual education & wellbeing:
for About Bloody Time: The Menstrual Revolution We Have to Have:
www.vwt.org.au/about-bloody-time-book-launched-period/ or to buy: www.vwt.org.au/shop/
In North America, I hear from people I trust that they trust The Justisse Method, run by Geraldine Matis, who has trained practitioners.
Rebecca Fett, It Starts With the Egg An incredible book on the Western science around the importance of the the three months leading to conception. Truly a must-read if there is a history of miscarriage and good for anybody considering the important aspects and process of conception.
Jane Bennett and Alexandra Pope, The Pill: Are You Sure It's for You? Allen & Unwin, 2008.
"Post-Election Shock, Birth, Death & Sutaka": Article on the power of The Zone when giving birth or being present at a birth.
Bachman, Margo Yoga Mama, Yoga Baby: Ayurveda and Yoga for a Healthy Pregnancy and Birth. 2013.
Sparrowe, Linda. Yoga Mama: The Practitioner's Guide to Prenatal Yoga Includes sequences for each trimester, labor and birth, and postpartum. Shambhala Boulder 2016
Briggs, Tansy DACM, The Key to Postpartum Healing: Rest, Nourish, Heal. 2020. Postpartum health from a Chinese medicine perspective and decades of practice.
Sanskrit
Veda Studies For fellow students of Ayurveda, or any Vedic science, art or tradition, I want to share with you this extraordinary resource for learning to read, write and recite the Vedas, in a living lineage, with Shantala Sriramaiah. Sanskrit is an extraordinarily precise language and it is a gift to be able to study with someone so committed to that precision, heritage and lineage.
Other Tools For Healthy Living
Gimme the Good Stuff: Helps conscientious but overwhelmed parents easily understand the potential risks of a range of kids' and home products and presents you with a list of safe alternatives—in other words: The Good Stuff.
Floracopia: excellent quality essential oils from a company committed to sustainable growing practices.
Impish Lee: Very pretty, fun, supportive, planetary, underwireLESS bras.
I have to write a little extra for this entry. If you've studied breast health with me before, you know I'm not a fan of underwire bras. (Please read Chapter 13, "Breast Health" of Balance Your Hormones, Balance Your Life). I believe the pressure of the underwire suppresses free flow of blood, prana & lymph between the breasts and surrounding tissues, compromising long term breast health. But it is not easy to find pretty, supportive underwire-less bras.
Was not easy. Now easier. My dear, committed and talented nieces Kali and Noelle Ventresca of Impish Lee, have created just that. Their triangle and sweetheart bralettes are both underwire-less, high end, well made, pretty and supportive. And you can design them yourselves.
Or you can ask them to order (all or select) days-of-the-week ones I've designed (through their site), if you like. Each day's bra was designed with the colors and or qualities of the planet associated with that day of the week. Here's a photograph: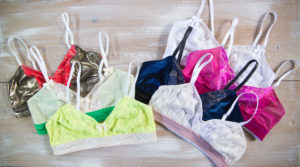 Sunday is the red and gold one, Monday is the white one. Tuesday the bright pink one (Mars governs bright colors, as well as red, and since Sunday was already red, that's the way I went here), Wednesday green, Thursday yellow, Friday cream and rose lace, Saturday the black and blue (naturally).
I have to say, since I got them (on their Black Friday 50% off sale) getting dressed in the morning is way more fun. When I first ordered the Sunday one, I thought it would be the one I wouldn't really like…the gold stuff would be a bit too much I thought. But it actually one of my favorites. It is so wonder-womany. (Goes with the recent wonder woman postage stamps in the US….so your bras and stamps can get along…so important).
Your size….Impish Lee has directions for how to measure yourself on their site. When they were first starting, I did that and it didn't come out as well as just plugging in the size I usually use but they worked with me on that anyway and it turned out great. They are very open to feedback and it has helped them refine their work.
Order one first…Since everybody is different, I would recommend ordering one bra first, making sure it fits well, working with them if it doesn't and then, once you are sure they work for you, ordering more.
About the fun…Can't tell you how fun this has been. Have fun. Let us know how it goes. Btw, I don't get paid in any way for this.
If you don't find they fit well, or don't find them comfortable, or find them too pricy, Cosabella has more moderately priced, underwireless bras that I find fit quite nicely. I don't get paid for saying this either.
Namarupa: A magazine dedicated to various philosophies and traditions of India.
No More Dirty Looks: The Truth About Your Beauty Products and the Ultimate Guide to Safe and Clean Cosmetics. Why disrupt your hormones and health with chemical-laden products, when there are wonderful, natural alternatives?
The Pastures: A kind, supportive, educational retreat center for women survivors of breast cancer.
Queen of Thrones Castor Oil packs: While it is cheaper to get castor oil pack flannel elsewhere and piece together a castor oil pack yourself, as I share in the appendix of   Balance Your Hormones, Balance Your Life: Achieving Optimal Health and Wellness through Ayurveda, Chinese Medicine and Western Science, it does get a bit messy. This pack is pretty amazing. I've used it overnight and moved around and it didn't get on my sheets. I actually only recommend using them for about 90 minutes, but still…this pack is so easy to use. put the castor oil on the flannel side and tie the pack on, castor side down. Put a hot water bottle over it. That's it. So…I recommend it.
Sanskrit Sounds: Nicolai Bachman, BA, MA, MS. A source for learning Introductory Sanskrit.
42 The Game: Many of you may be too sattvic to indulge in card games. For those of you who do indulge, and like card games with bidding and trick-taking that can even be played with two people, you might like this. Dr. Welch and her husband made it up in the Summer of 2012.
For Allied Professionals
AcuPractice Seminars: Run by Dr. James Ventresca (Dr. Welch's husband). Weekend programs that offer acupuncture training and continuing education to chiropractors and Western medical physicians
Brodie Welch, L.Ac.: In Corvallis, OR. An inspired practitioner and instructor of Traditional Chinese Medicine, Qi Gong and student of 88th generation daoist priest, Jeffery Yuen. (And Dr. Welch's sister)
Dr. Tansy Briggs: Doctor of Oriental Medicine. Very experienced practitioner of Traditional Chinese Medicine, with a familiarity with Ayurvedic herbs as well. Philadelphia, PA, USA
Dr. Charles Ventresca: My brother-in-law, a talented, compassionate Chiropractor and acupuncturist in Locust Valley, NY