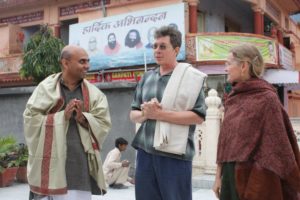 Dr. Ramkumar, Dr. Robert E. Svoboda, and Dr. Claudia Welch meet with us online to share a conversation around the four āśramas–or stages of life:  how we can use them to help us contextualize and navigate studies, families, professions, political and civic obligations, relationships and spiritual practices in ways that reflect and draw on the particular nature and strengths of each stage.
Please contact The Ayurvedic Center of Vermont at info@ayurvedavermont.com or 802.872.8898 to register for this special online event. 
Dr. Ramkumar Kutty is a student of Ayurveda and other traditional Indian knowledge systems. Over the last 2 decades, he has given talks and conducted workshops across the world promoting health, happiness and contentment.Ramkumar is a Founder-Director of Punarnava Ayurveda, an institution committed to "Authentic Ayurveda for Universal Well Being". Punarnava Ayurveda is currently engaged in the creation of vaidyagrama – an experimental green self-sustaining authentic Ayurveda healing community on the outskirts of Coimbatore in South India. (www.vaidyagrama.com)
Dr. Robert Svoboda is the first Westerner to graduate from a college of Ayurveda and be licensed to practice Ayurveda in India. During and after his formal Ayurvedic training he was tutored in Ayurveda, Yoga, Jyotish, Tantra and other forms of classical Indian lore by his mentor, the Aghori Vimalananda. He is the author of over a dozen books and has served as Adjunct Faculty at the Ayurvedic Institute in Albuquerque, NM, and at Bastyr University in Kenmore, WA. You can find out more about his work at www.drsvoboda.com and follow him on Facebook.