15 Aug

Borscht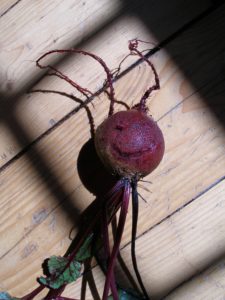 This has been one of my favorite soups for decades. I've had this soup in both very remote and very populated spots in Russia, and in a fairly remote diner in Ukraine. I've had it made many different ways. I like them all. This might be my favorite usually, though.
One thing that really struck me in the Ukraine diner is that it was real, whole food, made fresh. In a diner. On a remote stretch of highway. I am often struck in countries outside the US, how much easier it generally is to find whole, freshly cooked food, as opposed to the processed, packaged, canned or boxed food that is so ubiquitous in the US. In many other countries, including Europe, Russia and Asia, etc. etc. etc., many more people cook. More often. From scratch. From fresh ingredients. Both for themselves and others. There is far less dependence on processed foods. Maybe that's one reason the US ranks 17 of 190 countries in its population being overweight. Sounds depressing but the good news there is that there is an easy step to improve our health in the US: we can take or make the time to cook whole food. It is simple, even if it is hard. It forces us to change our lives in other good ways as well. When we cook for ourselves and others, it is time we are spending not doing something else–that may not be as good for us in terms of overall balance.
This soup has all six tastes and is okay for Vāta, Pitta and Kapha. I believe it is especially nourishing for rasa, rakta, māṃsa dhātus and is especially nice in the late autumn and winter.
Ingredients
1 medium-large onion
2 TB organic, extra virgin olive oil (can get away with about a tsp. for Pitta or Kapha, or could even substitute a half cup water and water-sauté them)
3 medium-large beets
3 small-medium potatoes
2 carrots
2 stalks celery, chopped (optional)
½ a small green cabbage (optional but, if you omit, I'd recommend adding the celery if you have it)
1 TB caraway seeds
6-8 oz bottle of diced tomatoes
3-8 TB dill, preferably fresh
3-6TB apple cider vinegar, (balsamic is okay if apple is unavailable) (omit for Pitta and Kapha)
2 TB maple syrup (omit for Kapha)
salt, to taste (omit for Pitta or Kapha)
Dice all the root veggies and onion in ½ – ¾ " pieces. Chop the cabbage in about 1 " squares. Chop the dill finely.
Sauté onions in the oil (or water-sauté them, if you are on a low-oil diet) until they are translucent, over medium-high heat (and until, if you are water-sautéing, the water is gone). Add the celery, carrots, beets and potatoes and sauté a few more minutes, while stirring. Add the cabbage, caraway, and enough water to just cover all the veggies. Bring to a boil and then reduce the heat. Simmer until everything is very soft—about 45 minutes. Add the rest of the ingredients, (don't forget the tomatoes here) except the dill, and  cook for another 5 minutes. Blend about half the soup and then mix the two halves (the unblended and the blended) together. Then add the dill—keeping out about a tablespoon for garnish– and let cook 5 more minutes.
Serve hot and garnish with about a tablespoon of sour cream or cashew cream on top (omit either for Kapha and omit sour cream for Pitta) and a sprinkle of the fresh dill.
I would make this with about 4-5 hungry people in mind and expect–and be happy for–leftovers. I recommend tasting this after you've added the dill, vinegar, salt and maple syrup and add more of any of them, as you like. Omit salt entirely for Pitta and Kapha and either omit or use minimal vinegar for Pitta and Kapha. Could substitute a bit of lime juice for the vinegar, for Pitta folks.